ANALISIS SWOT PENGEMBANGAN UMKM XYZ
Keywords:
swot, MSME, Analysis
Abstract
This study aims to analyze the strategy of MSMEs in XYX. The study identifies internal and external factors of MSMEs, evaluates and analyzes them and formulates strategies to increase MSME turnover by minimizing weaknesses and threats and maximizing the use of opportunities and strengths. Data was collected through questionnaires and field interviews with MSME owners and MSME customers for data collection through SWOT analysis. The result shows 0.8 for Strict and -0.7 for Threat
Downloads
Download data is not yet available.
References
Appley, A. Lawrence; Lee, Oey Liang. 2010. Pengantar Manajemen. Jakarta: Salemba
Empat.Assauri, Sofyan. 2008. Manajemen Pemasaran Dasar, Konsep dan Strategi. Edisi Pertama. Cetakan Keempat. Penerbit Rajawali. Jakarta
Ahmad, Fahlis. Coat of Joyce. and Soegoto, Agus Supandi(2016). Analysis Green Product And Marketing Strategy Decision Against Green Product Purchase The Body Shop In Manado Town Square, Vol. 4, No.1.
Bilqis, Nabila Zain (2017). As SWOT Analysis Strategy Formulation Competitive Advantage (Studies in Bloom Yamaha Motor Dealer). Faculty of economics and business. Telkom University. Bandung.
Chou, S.-F., Horng, J.-S., Sam Liu, C.-H., & Lin, J.-Y. (2020). Identifying the critical factors of customer behavior: An integration perspective of marketing strategy and components of attitudes. Journal of Retailing and Consumer Services, 55, 102113. doi:10.1016/j.jretconser.2020.102113
CHERMACK, T. J. & KASSHANNA, B. K. (2007). "The use and misuse of SWOT Analysis and implications for HRD professionals", Human Resource Development, 10 (4), pp. 383-399.
Gunawan, Ade (2013). PT.PASSION Marketing Strategy For Handicraft With SWOT Analysis Approach. Faculty of Economics, University of Diponegoro, Semarang.
Prawita, Sri Yati (2011), a SWOT analysis as the Basis Competitive Marketing Strategy Formulation. Faculty of Economics, University of Diponegoro, Semarang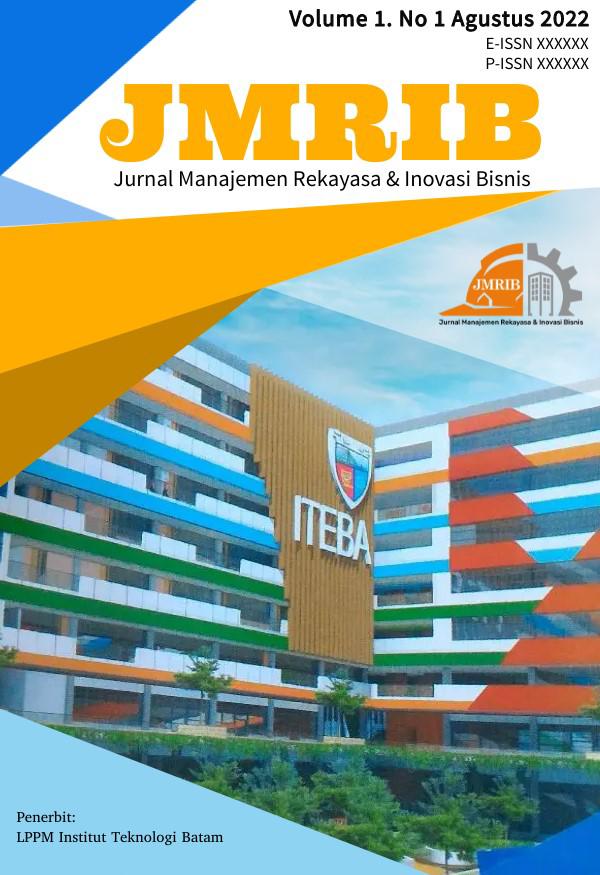 Downloads
How to Cite
Dermawan, A. A., Dimas Akmarul Putera, Rosie Oktavia Puspita Rini, & Wahyudi Ilham. (2022). ANALISIS SWOT PENGEMBANGAN UMKM XYZ. JURNAL MANAJEMEN REKAYASA DAN INOVASI BISNIS, 1(1), 11–20. Retrieved from http://journal.iteba.ac.id/index.php/jmrib/article/view/16
License
Copyright (c) 2022 Aulia Agung Dermawan, Dimas Akmarul Putera, Rosie Oktavia Puspita Rini, Wahyudi Ilham
This work is licensed under a Creative Commons Attribution 4.0 International License.